FORESTS, FARMING & FESTIVALS
A ForestryTrilogy
The Forestry, Farming and Festivals Trilogy is a travel project developed by our Swiss partner Marina Beck. Marina has worked in Bhutan on community forestry and is regularly guiding tours through Bhutan. With the trilogy she combines her two passions – travel and forestry – with the aim to introduce visitors to Bhutan's beautiful nature and village culture. The itineraries are linked by their shared interest in forestry, flora and fauna, and rural life. Hike through fairy tale forests and gain deeper insights into forestry and forest management in the little kingdom. This includes interacting with people involved in forestry, at all levels.
For more information and bookings, please contact Marina at  marina@bhutanhomestay.com
Ethometho – Rhododendron spring in Bhutan
Forestry in West and Central Bhutan
• Focus on forest management in the West and in Bumthang
• Cultural highlights: Taktsang monastery and Thimphu sightseeing
• Religious festival at Domkhar (Bumthang)
• Immersion in local culture and meeting with forestry specialists
• Alternative cultural program can be arranged for spouses (during forest excursions)
• Overnights: hotels (no homestays)
• Duration: 19 nights / 20 days
---
The wild & authentic East 
Journey to the winter habitat of the black necked cranes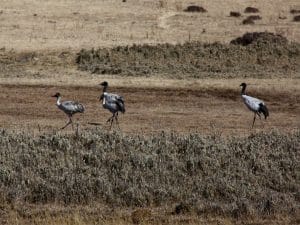 • Explore the rather unknown Eastern region and Bumthang
• Focus on forest management, nature conservation and wildlife observation by visiting Bumdeling Wildlife Sanctuary and Trumshingla National Park
• Religious festival in Mongar
• Immersion in village life & meeting with local forestry specialists
• Overnights: hotels and homestays (4 nights)
• Duration: 20 nights / 21 days
ITINERARY
---
The untamed Southern Jungle
In search of tiger, elephant and hornbill
• Explore the undiscovered subtropical South of Bhutan
• Immerse in subtropical forests of the Manas National Park
• Focus on nature conservation and wildlife observation
• Meeting with forestry personnel and experts
• Overnight: hotels, eco camp (2 nights), homestays (4 nights)
• Duration: 20 nights / 21 days
ITINERARY
---
Forestry and Nature Conservation
Bhutan has a total forest coverage of 71%. Due to huge variations in altitude ranging from 100m asl in the South to 7'570m asl in the North and precipitation, exposition and other ecological factors, a considerable diversity in species and forest ecosystems can be found. The main forest types from the Southern to the Northern region are:
Subtropical forests are multistoried, very rich in species diversity, and found on the low hills below 1'000 m. Typical species: Ailanthus grandis, Bombax ceiba, Duabanga grandiflora, Tetrameles nudiflora
Warm broadleaf forests cover the subtropical hills between 1,000-2,000 m and are very rich in species of both subtropical and temperate genera.
Chir pine forests (Pinus roxburghii) are found at low altitude (1000-2'100 m) in the deep, dry valleys.
Cool broadleaf forests dominate temperate hillsides between 2,000 and 2,900 m altitudes. Main species: Evergreen oak species (Quercus semecarpifolia, Q. griffithii), Maple (Acer campbelli) and beech (Betula alnoides).
Blue pine forest (Pinus wallichiana) occur between 2'100 m and 3'000m in dry valleys replacing the chir pine. At the transition to mixed conifer forest from approx. 2'500m onwards, spruce (Picea spinulosa) and hemlock (Tsuga dumosa) add to the blue pine.
Mixed conifer forests with blue pine, hemlock, spruce, fir (Abies densa) and larch (Larix griffithiana) dominates between 2'700 m and 3'200 m. The undergrowth consists of rhododendrons, bamboo and other shrubs. Due to high precipitation level epiphytes, ferns and moss are abundant.
Fir forests dominate from approx. 3'200m to the tree line at 3'800m – 4'200m. At the tree line the forests become stunted and grade into juniper and rhododendron scrub.
In the understory of mixed conifer and fir forests a high diversity of rhododendrons can be found. In spring the rhododendron flowers are a colourful spectacle of nature. Above the tree line which varies between 3'800m and 4'200m Juniper and Rhododendron shrub is prevailing.
Forestry in Bhutan
Nature conservation plays an important role in Bhutan. The small Kingdom is known internationally for its proactive conservation initiatives. Nature conservation is not only one of the four pillars oft the country's unique development philosophy of Gross National Happiness, the government also established a number of protected areas in Bhutan during the last decades and the Constitution stipulates a forest cover of 60% for all time to come. Bhutan has designated more than a half (51%) of its territory as national parks and reserves including nine percent of land area as corridors linking protected areas.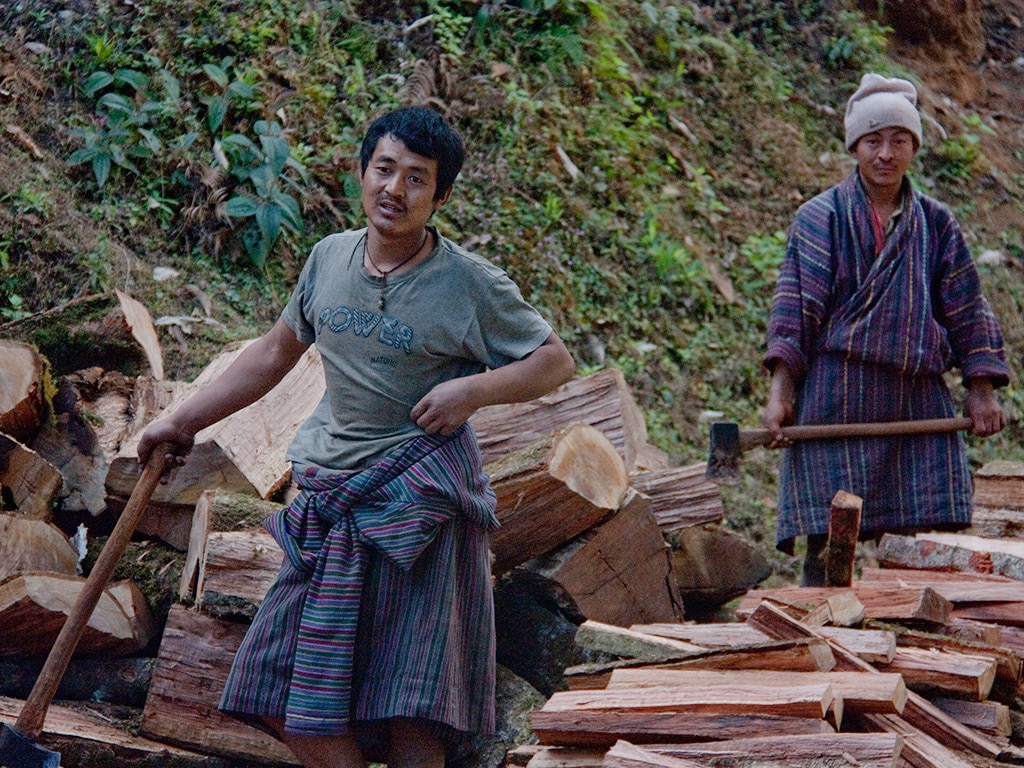 Forest Management
Bhutan's forests provide ecological, economic, social and spiritual goods and services. They provide firewood and construction timber; non-timber forest products like medicinal plants, mushrooms or litter; habitat for endangered species; protection against natural hazards and erosion; sacred forests etc.. Due to the mountainous topography, only 14 % of Bhutan's forest area is considered to be economically accessible and available. Less than half of the area (6%) is used for commercial timber production. These forests for commercial purpose are managed by the Government, and timber is extracted by cable craning. A large proportion oft the forests are not managed or fall under protected areas where timber production is restricted. A small but increasing proportion of the forest area is managed by communities, so called Community Forests.
Community forestry in Bhutan goes back to the 1970s when the idea arose to involve local communities in managing the forests. Community Forestry has been supported by the forest department in cooperation with Helvetas/SDC for many years. Since 2007 the number of Comnunity Forest Management Groups has increased rapidly. By 2016, 3% of Bhutan's area was covered in 677 community forest management groups, involving and benefitting 33% of the rural population. The Community Forest Management Groups can get the rights to use the forest products (timber, mushrooms, medicinal plants etc.) based on a forest management plan which is valid for ten years and which they elaborate jointly with the local forestry service. An increasing number of groups is involved in selling timber, non-timber forest products such as mushrooms or ecosystem services from the forest.