"Not all those who wander are lost". J.R.R. Tolkien
The Inception
Bhutan Homestay is a Bhutan based tour operator registered with the Tourism Council of Bhutan. Since opening its doors to tourism in 1974 an increasing number of travelers have visited the Kingdom of Bhutan. Many guests however are herded from one attraction to another, getting a glimpse here and there with barely enough time to linger in one place. Such trips might work for many people but there are also those who look for a different type of experience. They want to immerse and get closer to the everyday lives of real Bhutanese people. Furthermore families with small children need a lot of flexibility and standard itineraries are difficult to implement for them.
Our Philosophy
We aim at showing our visitors the Bhutanese way of life in its natural environment, up close and as authentic as possible. Breaking away from mainstream tourism trends, Bhutan Homestay is committed to offering our clients an intimate, and once in a lifetime experience by including homestays in our itineraries.
Bhutan Homestay will show you the Bhutan we Bhutanese know – the unseen Bhutan.  To achieve this we will introduce you to the concept of "wandering" and along the way, you will gather truly memorable impressions of this beautiful kingdom. And who knows, you might even be inspired to wander in the footsteps of the famous Buddhist saints along ancient traditional "highways", historical footpaths that used to connect the vast network of valleys and villages.
To find out more about our dedicated crew visit TEAM.
The Relationship With Our Hosts
We at Bhutan Homestay deeply value the relationship with our hosts. It is based on the traditional Bhutanese concept of thuenlam, that emphasizes the importance of keeping good relations based on mutual respect and reciprocity. Bhutan Homestay was developed from traditional Bhutanese hospitality concepts. We support the continuity of intangible cultural practices that are constitutive for the production of thuenlam.
Giving Back
By booking your trip with Bhutan Homestay you will support grassroots development without paying more than the mandatory government tariff:
2 % of the tour price will flow into a fund, created to support sustainable grassroots initiatives particularly in rural Bhutan.
Projects & People
To find out what we do and which projects and initiatives we support visit GIVING BACK. We also offer interested photographers and those engaged in activities affiliated with Bhutan to feature their work on our website under GALLERY and PEOPLE & PROJECTS. On our BLOG you can find further information on travel specials and different aspects of Bhutanese society.
Types of Homes
Homestay means you will be staying with a family in their home. However, the subcategory farmstay stands for a home embedded in a full fledged farming economy. There will be animals around the house and the family has to carry out typical farm works such as milking, making cheese and butter, cutting grass, and so forth. Homestays, including farmstays, can qualify as heritage homes depending on the family history and the role of the particular household in the locality. Some of these heritage homes are very large and senior residents possess in-depth knowledge of the olden days, which they are happy to share with you.
Bhutanese Hospitality
The guest of one night is like a god. Bhutanese saying
If you decide to stay in one of our homes you will get more than just a glimpse into traditional hospitality. For instance, you will get an idea of the traditional gift exchange practice in rural Bhutan because your guide will take you along when buying the chhom (the gift one brings to the host).  We will brief you properly prior to your arrival and your guide will always be there to interpret and translate for you. You are in good hands!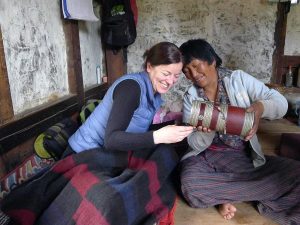 Bhutanese are wonderful hosts. Traditional hospitality and etiquette can be extremely refined and vary across the country. As foreign guests, your host will probably want to welcome you in the prayer room (choesham) of the house, or if available, in a separate room intended for such occasions, similar to the reception of special Bhutanese guests. However, we want you to experience a cordial, less formal reception typical of everyday local village hospitality.
The kitchen is the central room in the Bhutanese household and it is here where the family naturally gather. In the winter it is also the warmest place because of the heat of the "bukhari" (small wood stove) and the cooking stove.
The cuisine is a real highlight when visiting our homes as it differs greatly from what is served in guesthouses and hotels. There is nothing better than a home cooked meal especially when you have the chance to watch the family preparing it. You can even participate in the preparations and learn some new cooking skills. Food and the act of sharing food with each other is very important in Bhutanese society and creates a bond between those who participate. Don't be surprised if your host wants to overfeed you. A reputable Bhutanese host will always have prepared too much food and expects you to take re-fills. Especially when you accept the local moonshine, ara, you will have to take a second and most probably third re-fill! Make sure you are hungry when you enter a Bhutanese village house.
Tourist Standard Hotels and High End Accommodation
We also book our guests into guesthouses, hotels and lodges approved by the Tourism Council of Bhutan. This can be a welcome variation after staying in remote places without a proper shower for a while. Our guests will furthermore have the option of choosing more luxurious accommodation in high end hotels. You will find more travel information on Bhutan on TRAVEL INFO and on accommodation in Bhutan on ACCOMMODATION. For Itineraries check out TOURS.