Sonam Choeden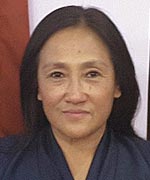 FOUNDER, Paro Office, Bhutan
Sonam Choeden worked in the Education Sector in various capacities for close to 2 decades. Her interest in  tourism and the hospitality business grew when she started her own tourist hotel which she managed for 6 years. Meeting and coming across guests from different countries with varied interests, some who seemed to have not quite got 'what they were promised on their trip', the idea to start a tourist agency developed. Sonam is originally from Kanglung village in Trashigang, East Bhutan but now lives in Paro. Sonam is Bhutan Homestay's Operations Manager and will be the main contact person in Bhutan for guests of Bhutan Homestay.
Contact: Mobile: +975 17110344  Email: schoeden@bhutanhomestay.com 
Ulrike Cokl
FOUNDER/GUIDE, Research & Itinerary Development, Europe/Bhutan
Ulli has lived in Bhutan on and off  for many years. She has conducted research on traditional hospitality practices, travelling & gift-exchange in Bhutanese rural society. Thus she is very familiar with village life. Together with Sonam and Nedup she decided to explore unique and sustainable ways of farm/homestay tourism. When in Bhutan Ulli is always on the move, exploring new homes in remote places. She loves developing unique itineraries that offer a glimpse into the rich cultural traditions of Bhutanese society. Ulli's mother tongue is German, an advantage for our German speaking guests. Ulli occasionally guides tours in German and English language.
Contact: Email: ulrike@bhutanhomestay.com
Nedup Dorjee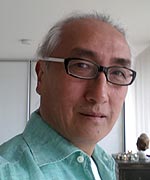 FOUNDER, London Office, United Kingdom
Nedup Dorjee was born in Eastern Bhutan. He studied Hotel Business administration in Germany and completed a Masters in Tourism Marketing at Surrey University, England. In the early 1980s he was in charge of Trekking and Mountaineering under the state controlled Bhutan Tourism Corporation. During his tenure as head of Trekking and Mountaineering, he surveyed trekking routes throughout Bhutan and led the first Italian group of trekkers on what is now famously known as the 'Snowman trek'. He now permanently resides in the United Kingdom. His passion is to see tourism develop in Bhutan where the benefit goes directly to the rural communities.
Contact: Tel: +44 2077040786  Email: ngodrup@bhutanhomestay.com
Marina Beck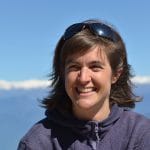 PARTNER/GUIDE, Switzerland
Marina is our Bhutan Homestay partner in Switzerland. While studying environmental science at ETH, Zurich, she spent one and a half  years in Bhutan where she worked as an intern for Helvetas between 2008 and 2011. Marina  has been working in the Swiss forestry service for 5 years where she frequently conducts field surveys and continues gaining experience in forest managment. Marina loves mountains, particularly mountain forests, and her favorite activities are hiking, trekking and photography. Currently she is also undergoing training as a yoga teacher. Marina guides tours in German, French and English language and her focus is on forestry, flora and fauna and rural livelihoods. She also develops yoga tours for Bhutan Homestay.
Email: marina@bhutanhomestay.com
Sonam Chophel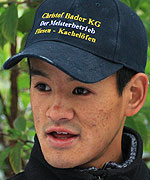 GUIDE
Sonam Chophel holds a Bachelor degree in science from Sherubtse College in Kanglung (East Bhutan). He occasionally worked as a research assistant and therefore is well trained and equipped to explain and interpret local cultural practices to foreign guests. He is a multi-talented and multi-skilled young man and well informed about ongoing issues in the country. Sonam is also extremely capable and helpful when it comes to ad hoc itinerary changes, organizing and networking. He loves village life and Buddhism, hiking, trekking, and mountain biking. Sonam also enjoys travelling with kids and knows how to entertain them during long drives.
Kuenzang Choden Tenzin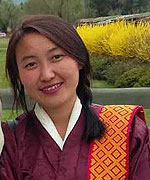 GUIDE
Kuenzang Choeden Tenzin was born in Lhuntse and brought up in Western Bhutan. She completed a degree in English Language Literature from CMS college of science and commerce, Coimbatore, Tamil Nadu. Other than her mother tongue Kurtoepkha, she speaks Sharchop, Dzongkha, English, Nepali, Hindi and basic Tamil. Kuenzang wanted to become a tour guide because she is very interested in meeting with people from different cultures. She loves supporting rural communities and hence introducing guests to village life and farm/homeststay hosts. Kuenzang herself is well grounded in village life not least because she has been helping on her family's farm in Yurbi, Lhuntse since childhood. Kuenzang is also interested in photography.
Pema Thinley
GUIDE
Pema Thinley was born in Tralang, a picturesque village in Tang valley, Bumthang. He holds a B.A. in Dzongkha and History from Sherubtse College. Pema has always dreamt of becoming a tour guide because of his interest in meeting and getting to know people from different walks of life. Pema also loves reading and he will always be up to date about recent developments in the country. Furthermore, he is an ardent soccer player and loves outdoor activities. Last but not least Pema likes to take on responsibility and he is flexible and punctual, two very important qualities for his job as a tour guide.
Sonam Choden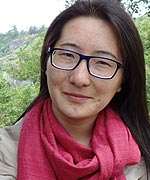 GUIDE
Sonam Choden was born in Sumthrang, a beautiful village in Ura valley, Bumthang. Her family belongs to the hereditary Ngoe lineage that has a long history in the area. The saint Pema Lingpa is but one of the prominent exponents in the long line of ancestors. After finishing her studies at the Institute for Language and Culture Studies Sonam successfully underwent the tour guide training. After guiding for a while her interest in textual scholarship grew and she left for Germany to study Tibetology at the University of Hamburg. Still in the process of finishing her Master's degree she guides during her holidays whenever she is back in Bhutan.