By Dr. Heiko Hentrich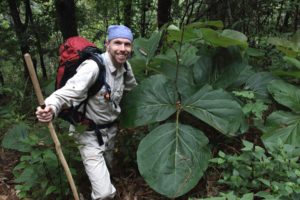 All photos ©Heiko Hentrich
Why Bhutan…
I am a tropical botanist, who has travelled to many Latin-American countries to do field studies in remote places. As a side benefit of my job, I meet people from different cultures, and I have come to appreciate the opportunity to learn about other ways of life, customs, food, and languages. On my journeys, I usually stay with locals and prefer these private accommodations to hotels, because you learn so much more about the country and its people.
My holidays are not very different from my professional activities. I am especially interested in nature and in gaining insight into foreign cultures. Usually, I plan my trips by myself and predominantly stay with friends or friends of friends. I have never travelled on organised tours by tour operators, as I have very specific preferences regarding my scientific interests and I don't like traveling in large groups.
Many years ago, I attended an orchid conference, where Phillip Cribb, former curator of the orchid herbarium at the Royal Botanic Gardens Kew, gave a talk about his research in Bhutan for completing his book "The Orchids of Bhutan" for the "Flora of Bhutan" series. His presentation was breathtaking for me. He showed us pictures of untouched nature as one rarely experiences in the world today. Abundant flowering Dendrobium orchids just beside the road painting yellow curtains in the forest; deep valleys and mountain ridges bearing dense forest covered in mist. The stories about his journey to this mystical kingdom were even more fascinating: we heard about people who appreciate and protect nature because of their faith and do not harm any living creature. For example, a nice anecdote was that Phillip's driver stopped the car each time he saw an animal on the road, even as small as an earthworm, to carry it aside and rescue its life.
All photos © Heiko Hentrich
Finding a Tour Operator
You can imagine how deeply impressed I was and how much I wanted to travel to this country to witness these things for myself. Almost 20 years later, I started to plan my trip and this is where the difficult part began.  Accustomed to traveling alone, I was faced with the problem that access to Bhutan is only possible as part of a pre-planned itinerary organized and implemented by a local tour operator. However, I had no experience with tour operators and wondered how I would find one willing to organize a tour to meet my specific interests.
One of my colleagues, who had travelled to Bhutan, recommended Bhutan Homestay as a tour operator specializing in homestays and cultural trips. So I got in contact with Ulli and explained to her that I wanted to experience the untouched nature, mainly orchids obviously, but also other plants, and of course, animals.  I also wanted to learn something about the Bhutanese people, their history, way of life and Buddhism. Ulli was very open and enthusiastic during our discussions. This was the first time that someone asked her for such a specific kind of experience and she suggested that I should prepare a list of sites that I would like to see and she contacted orchid experts in Bhutan. For my part, I started to write down data from Cribb's orchid book.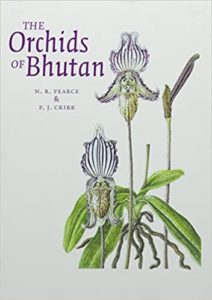 As in most Floras, the province, the typical habitat, and the flowering time for all species was indicated, which was a good starting point for my list. As a tropical botanist, I was especially interested in the country's cloud and rain forests and not in the alpine vegetation as many other travellers are. For orchids growing in these forests, there are three main flowering events a year. I chose the end of May for my journey since there is an overlap of orchids flowering in the dry season with those flowering during the monsoon. During that time, you can especially find many Coelogyne and Dendrobium orchids in bloom. After passing my list to Ulli, she checked for local guides and homestays at the different sites and suggested several itineraries to me. Once I had chosen one, the rest of the travel preparations went pretty easy (at least for me). Ulli and Sonam organized the trip and arranged all the necessary documents. The accessibility of both of them by email or telephone was very good so that open questions, which still came to me at short notice, were answered within shortest time.
Tour Package and Flexibility
The days until the departure passed very quickly and I was very curious what to expect as this was my first externally organized holiday. However, I was positively surprised by the great tour package I received. There was one driver and one guide only for me, who met me at the airport in Paro when I arrived and anticipated my every wish during the whole journey. Kinley was a very experienced and cautious driver. I always felt very comfortable in his vehicle and despite the many serpentine roads, I never became sick. Pema organized the tour in the background from day to day so that everything was well prepared. It was even possible to change the itinerary slightly so that I was able to visit some more Dzongs at short notice. The flexible reorganisation of the travel plan was very pleasing and is a big plus point (I can imagine how much effort that would mean for the organizers). Pema has a broad knowledge of Bhutan's cultural and historical background. To become a tour guide in Bhutan, apprentices must complete a comprehensive curriculum where they learn everything a tourist is interested in about Bhutan. At all of the places we went, he was able to explain the history and relationships and he spontaneously arranged gatherings and discussions with local people. Since many Bhutanese people speak very basic English (especially in the countryside), Pema was an important interface to connect with the locals. Additionally to Pema, Ulli had engaged a local guide at each location we visited. This was usually a park ranger who knew the local forests, the trails, and the plants and animals that grow there. Depending on the guide, one knew more about nature and the other less, but in general, Ulli had actually managed to get guides with a good knowledge of orchids. All local guides were very dedicated, spoke very good English and gave their best to make the trips a great experience.
All photos © Heiko Hentrich
In the larger cities, I was accommodated in very comfortable hotels which was fine for me. In Paro, I even had a room with a direct view to the Tiger's Nest. In the countryside I stayed with people in their homes. The conditions of the homestays varied from family to family. In most cases, I had the honour of sleeping in the prayer room as I was a special guest. A simple bed on the floor with mattress, pillow and blanket was prepared for me. Some homestays were already specialized in the accommodation of travellers and had rooms with western standard beds and partly with private bathrooms. Since I am very sensitive to cold and it cools down quite a lot in the humid air at night, I usually used my sleeping bag additionally. If you are unlucky, there are fleas in the accommodation that leave itchy bites. This is especially the case during the wet season in the warmer regions. However, Ulli had already warned me about this so that was no problem for me. In the morning, I usually woke up to the smell of burnt pine needles and the constantly repeated mantras of morning prayer by the hosts, but this was the fascinating spiritual part of the adventure!
Local Hospitality
When entering a host's house, one is usually invited for a warm drink and flattened, crude rice or biscuits – regardless of the day you arrive. I always preferred to drink the typical Himalayan beverage, Suja-tea, a salty butter tea made of Viscum nepalense. The food in Bhutan was throughout very delicious wherever I stayed! It is usually served in the living room, where you sit on mattresses on the ground. You can make your own selection since the host serves several bowls with different kinds of dishes, and your tour guide asks you beforehand which food you prefer. The basic ingredients were mostly the same and rice is the most important compound of the cuisine. Bhutanese grow a special red rice. Many dishes contain medium spicy chillies, cheese, mushrooms, potatoes, and beef. On some occasions, you are served dried fish, spinach, asparagus or exotic vegetables from the forest like young fern fronds, banana flowers or Arisaema sprouts. In the restaurants you should try momos. These are dumplings filled either with vegetables or with minced beef, served stewed or fried with a chilly sauce. I really loved them! For those of you who are worried about diarrhoea, I can reassure you. From friends who had travelled to India and Nepal, I heard horror stories and prepared my first-aid kit with different remedies. But this seems to be different in Bhutan. During the entire journey, I never had any digestion problems. Great!
All photos © Heiko Hentrich
The Bhutanese people I met were all very hospitable and they treated me as an honoured guest in their homes. Since I am used to Latin-American people, who are typically very extroverted, spirited and warm, I was first irritated by the rather reserved nature of the Bhutanese people. However, if you are an open person yourself and start communicating with them, most of them usually warm up and open up themselves. What I had imagined differently was the living together with the hosts in the house. I thought there would be more interaction and insights but in most homestays, I was mostly separated from the family life. For example, we were almost never eating in the company of the host family. The host served the food for the guide, driver, and me and then went away to eat later which I thought was a pity. In other countries sharing a meal together is usually the best time to start conversation and to exchange experiences.
Tigernest, Takin and other Highlights
Let us now come to the course of my journey. The itinerary was structured in such a way that we first visited the cultural highlights in the west of the country and then got to the nature part in central and south to south-east Bhutan. Every tourist who visits Bhutan wants to see the famous Taktshang Goemba – Tiger's nest and I was no exception. It is probably one of the most visited tourist spots in Bhutan and is therefore very crowded. Fortunately, we went there early in the morning and met very few people. On our way back, indeed many tourists on their ascent crossed our way especially many Indians. During my travel preparations, I had concerns about the altitude in Bhutan especially because we were climbing 600 m up to an altitude of 3120 m asl the first day. But to my surprise, I had no problems with altitude sickness or with sunburn. Taktshang was great! I took some nice pictures from the monastery and was impressed by the different temples inside and the mystic tales behind. As a little suggestion – you should not only take pictures of the monastery at the official photo spot where everyone does. There are several locations on the trail where you can frame the monastery within the beautiful landscape in your picture, for example, at the large prayer wheel.
The next stop was Thimphu, where we visited the Dzongs, the National Institute of Traditional Medicine, the large Buddha statue, the Royal Botanic Garden, the paper factory, the Royal Takin Preserve, and the Central market. For all of those who want to learn more about the local culture, my personal recommendation is to visit local markets! You can learn so much about a country from the crops people cultivate and the food they eat. At the market you see all kinds of people from different parts of the country and different tribes and social classes. Therefore, the Central market was definitely a highlight for me. If you are looking for extraordinary souvenirs, I found the paintings offered at the paper factory, at different prices, very original. The Royal Botanic Garden was more like a park with picnic areas – a bit disappointing to me.
All photos © Heiko Hentrich
We continued our journey to Punakha and Trongsa, where we visited the Dzongs. Punakha was the most beautiful Dzong of the country for me because of the special setting on an island in the junction of two big streams with an awesome bridge and many flowering Jacaranda trees surrounding the Dzong, and also because of the many delicately crafted ornaments on the buildings. Trongsa Dzong was also very special – spectacularly standing on a cliff above the valley and happily less touristic than the Dzongs in western Bhutan. In each Dzong there is a temple which is open to the public. The temples are decorated with colourful paintings and fabrics and often have impressively large, artistically crafted and elaborately decorated statues of various Buddhas, Guru Rinpoche and his manifestations or Shabdrung Ngawang Namgyel. Indeed, I felt a special atmosphere inside of the Dzongs and especially inside of the temples. If you like, you can sip holy water from your hand which is offered by a monk in a sacred vessel in front of the altar. All in all, the stay in Bhutan gave me a first insight into Buddhism by visiting the Dzongs and Goembas, experiencing everyday life and, above all, hearing the explanations of my guides. Eventually, I also realized that Buddhism and Buddhist life is so far-reaching and multi-faceted that it takes a long time to fully understand it. The trip at least gave me the impulse to continue exploring and deepening my knowledge.
In Search of Bhutan's Orchids…
And now we come to the part you have been waiting for impatiently all along – my impressions of Bhutan's nature. Our path led us first to the south to Nabji, Tingtibi, and Pangbang; then to the east via Pemagatshel and Goemba to Samdrup Jongkhar. To cut a long story short, my expectations of the nature experience were largely met and I was not disappointed. A great part of the country's surface is indeed covered by pristine forest and reforested areas. If you enter these forests, you will be impressed by the abundance of wild animals and plants, especially in the mid- to low elevated forests where we saw lots of monkeys and birds. Of course, in some regions, especially in the surroundings of cities and even around smaller human settlements, the (negative) influence of man is clearly visible. As in other regions of the world, you also find deforested areas and even rice fields and settlements in national parks. Nevertheless, in general, I had the impression that the approach of Bhutanese people to nature was completely different than in most other countries of the world. Nature has a much higher value here and I felt that Bhutanese people see themselves as part of a healthy and well functioning natural environment and treat it with appropriate care. Thus, also the pollution was very low and I did not see any trash on the street. At the markets there were even signs encouraging people to bring reusable bags. Due to their Buddhist believe, people do not hunt in the forests. Surprisingly, they do not even kill annoying mosquitos. Most peasants keep a handful of cows but the animals are usually not allowed to be locked in a barn. They are moving more or less freely and, instead of the cattle, the rice fields are surrounded by an electric fence. When people live close to the forest, wild animals like wild pigs or cats sometimes cross their settlements and eat the harvest or kill a domesticated animal. In these cases, Bhutanese people try to catch the pigs to bring them back to the forest or they build an electric fence at the border to the forest to make it as difficult as possible for the predators to pass through. Amazing, if you think about the damage wildlife hunting provokes in other parts of the world!
All photos © Heiko Hentrich
With respect to the plants, when we visited habitats with an appropriate climate for epiphytes (especially between 1500-1800 m asl), we found plenty of orchids. Stems, branches, sometimes entire trees were covered with a thick layer of different orchid species but also with ferns (mostly Drynaria), Hoya, Dischidia, and Aeschynanthus. Even the trees inside the villages, for example, right next to the supermarket were full of naturally growing orchids. More than once I saw stunning scenery! As predicted by the orchid literature, we predominantly saw different Dendrobium and Coelogyne species. Above all, the sight of particularly large plants or populations that were packed with flowers, which you will never see in the same size in cultivation, was awesome. Besides these two genera, we also found Pleione in higher elevation Rhododendron-forests and, in frost-free regions, different Bulbophyllum-species, Aerides, Arundinea, Calanthe, Callostylis, Cleisostoma, Oberonia, Otochilus, Phalaenopsis, Pholidota, Vanda, and so on. My personal orchid-highlights of the trip were: a forest full of flowering Dendrobium nobile, a very large flowering plant of Dendrobium devonianum, a large population of flowering Coelogyne corymbosa, and close to that a large flowering Dendrobium candidum, a very diverse orchid trail near Tingtibi, a population of Vanda bicolor and Paphiopedilum fairrieanum, and the road from Gomdar to Samdrup Jongkhar, where we saw lots of large, beautiful flowering orchids along the roadside.
Edible Orchids
In most Latin-American countries you find more orchids in gardens and houses of the people than in the forest and the most beautiful orchids are either disappeared or encountered in a few remaining small populations. During my journey, I was told that Bhutanese people are generally not interested in most orchids growing in the forest and therefore they do not go and pick them – with a few exceptions. In almost every farmhouse as well as in the entrance of most temples, you will find plant pots with Cymbidium orchids. The reason is probably that the flowers and flower buds of the plants are eaten as a delicacy in Bhutan. Thus, the only remaining Cymbidium plants in the forest grow in the forks of tall trees. The same applies to Dendrobium densiflorum. The terrestrial slipper orchid Paphiopedilum fairrieanum is also in great demand but mostly from abroad. It is almost extinct in Bhutan and can only be found in a few remaining places.
Orchids along the Nabji-Korphu Trek
The most beautiful nature experience of my entire holiday was definitely the Nabji-trek and I am very happy that Ulli had the idea to include it in my travel itinerary. It is a four-day hike on a trail through the Jigme Singye Wangchuck National Park. The destination of each stage is a small village of the simple living and very cordial Monpa people, who live in the national park and who offer you a sleeping place. You should be physically fit if you hike on this trail since there are several steep climbs. If you do the trek in the wet season, be aware that you will encounter leeches and fleas. During the trek, you pass different beautiful landscapes like pine forests, tropical rain forests, misty cloud forests, waterfalls, and cliffs. The remarkable detail about the trail is that according to legend, it was walked by Guru Rinpoche on his way to India. Along the way, you will find lots of memorial sites with plaques detailing the particular events that occurred at that place. This takes you back to a mystical time and makes the hike a unique experience.
All photos © Heiko Hentrich
Another field trip I was really looking forward to was the visit to the Manas National Park. I was especially curious to see all the big animals, like forest elephants, buffalos, and maybe a tiger or a rhinoceros. To my great regret, the park authorities did not allow us to enter the park even though we had an approved permit with us to visit the park. The explanation was that Manas was not listed on our road permit. Too bad, but this will be on the top of my list for my next trip to Bhutan!
Many thanks again to the whole team of Bhutan Homestay for the great trip. It will certainly not be the last time I travel to Bhutan with you!