By Kuenzang T. Choeden, cultural tour guide for Bhutan Homestay and homestay host in Yurbi, Lhuentse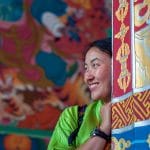 We have learned a number of lessons from this pandemic. One of the things is the value of relationships, thuenlam. We are wired from the moment of birth to be in relationships and yet somehow along the way we tend to prioritize other things above them.
Thuenlam – our Bhutanese tradition
The importance of relationships has now become a lot clearer for most people. That is why I enjoy guiding and hosting foreign guests – to foster relationships which have always been a great pleasure for me. It inspires and pleases me to understand and to get to know someone from a completely different community and culture.
Hosting guests is a huge part of our Bhutanese culture but hosting foreign guests is on another level. It is always great to know what's going on in the other side of the world. You can never really find on the internet what you are looking for about different countries and people, the best opportunity is always to interact with them personally.
The joys of meeting foreign guests
During the pandemic, people have tried to keep in touch with each other socially in whatever ways they can, but it is still difficult to stay close to everyone. That is why I host! Why wouldn't I look forward to receiving guests again when you get to do all the fun things together with them? Conveying about our culture, visiting different places and explaining the smallest details, exploring every nook and corner, letting the guests taste every dish available, cooking and weaving together, making fun, sharing experiences, taking pictures…there are unlimited things we can do together.
Hoping for the best
As a tour guide and a homestay host, I look forward to receiving guests again after the pandemic. The time spent together with our guests is always worthwhile.
It is amazing how people create bonds with each other no matter what religion or country they are from. We get to unwrap lots of experiences, lessons and great ideas!
I look forward to hosting foreign guests again soon!