In the Pursuit of Chili & Cheese: Food production and local cuisine in the small Himalayan kingdom

This journey will take you through the culinary landscape of Bhutan. You will learn about food production, food processing and cooking in the small kingdom. Insights will include the role food plays in everyday lives of villagers and town folks, for religious- and community festivals as well as in avoiding sickness and affliction. You will be accompanied by Kinley Wangmo, a young chef whose life passion is the art of cooking.
17 Nights/18 Days in Bhutan
(suggested: August with Masutaki Festival in Ura)
Kunzang Choden: Chilli and Cheese: Food and Society in Bhutan.
DAY 1: Arrival at Paro & Thimphu
Drive to Thimphu and light sightseeing
DAY 2: Thimphu
Thimphu sightseeing and farm visit (tofu production)
DAY 3: Thimphu 
Cooking class and Thimphu sightseeing
DAY 4: From Thimphu to Punakha
Dochula, Chimey lhakhang, Punakha Dzong
DAY 5: Punakha
Hike, village life, cooking class
DAY 6: From Punakha to Phobjikha
Hike or drive to Phobjikha
DAY 7: Phobjikha
Valley hike, village life and cuisine
DAY 8: From Phobjikha to Chumey
Long drive, Trongsa Dzong on the way
DAY 9: Chumey
Village life, monastic kitchen, local cuisine
DAY 10: From Chumey to Ura
Yathra weavers, Ura lhakhang, village life
DAY 11: Ura Masutaki Festival (tentative)
Mushroom and food festival
DAY 12: From Ura to Tang
Drive to Tang, local cuisine and agriculture
DAY 13: Tang
Valley hike, Ogyen Choling, evening cooking with locals
DAY 14: From Tang to Chokhor
Hike to monastery and drive to Chokhor
DAY 15: Chokhor
Local sightseeing, local food production
DAY 16:Flight to Paro
Flight to Paro and local sightseeing 
DAY 17: Paro Taktsang
Hike to Taktsang, Tiger's Nest
DAY 18: Departure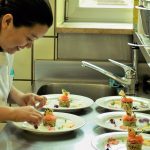 This tour includes a culinary weekend with Kinley Wangmo, a young Bhutanese chef. Kinley was born in a remote village in Mongar, East Bhutan. She spent the majority of her young life in Thimphu. Kinley completed a Bachelor of Hotel Management in India and more recently a Diploma in Hospitality Management from the Institute for Tourism and hotel Management (ITH) at Klessheim, Salzburg in Austria. She currently teaches in one of the hospitality institutes in Thimphu.
From an early age Kinley had to cook for her entire family. During that time her passion for food awakened. Kinley considers cooking an art as well as a science. Apart from enjoying the collecting and preparation of traditional recipes she loves to constantly experiment, create and invent new dishes. Kinley decided to become a chef not only because she is fascinated with food, she also thinks that the flavours and textures of any cuisine appeal to our senses in a way that is unique. With such tremendous passion, Kinley first worked as an assistant chef at UMA in Paro. Later she was head chef at Baan Thai restaurant in Thimphu. Kinley's long term future plans include sharing her knowledge with her fellow Bhutanese in the remote East.
You can follow Kinley's adventure on 
Information:
This tour is tailored to people who are interested in rural livelihoods, food production, cooking and eating. You will get a broad idea of the role of food in different domains of Bhutanese life from everyday hospitality to the spiritual realm. Activities will entail interactions with local people in their homes, cooking classes and meeting with interesting people related to food and food production. People should not mind the occasional simple but clean homestay whilst in the villages.
Bookings:
You can book this tour with GESAR Travel or E/T/C Edutainment travel. For reasons of originality we refrain from detailing our programme here. For more information on this group tour or if you want to book this tour individually please contact us