On the trail of Pema Lingpa

16 Nights / 17 Days in Bhutan: A perfect trip for people who want to know more about Buddhism in Bhutan and how it manifests in everyday village life. Hike to monasteries, meet with monks and lamas and enjoy a short meditation retreat in a very remote hermitage.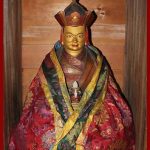 This tour is tailored to those interested in Buddhism & pilgrimage. The journey follows in the footsteps of famous Bhutanese saint Pema Lingpa and you will also not miss important pilgrimage sites of Longchenpa and Guru Rinpoche. The itinerary can be personalized according to your interests. Activities (may) include meditation retreats incurring getting up very early in the morning, chanting mantras, fasting, etc.. The retreat places are very authentic and remote with basic facilities. You will get a glimpse into the fascinating life of Bhutanese yogis and yoginis who retreat from society to pursue enlightenment. This is not for those who seek luxury on their trip.
Special Guide:
In case you choose meditation as part of your programme it is advised to travel with our guide Sonam Choden: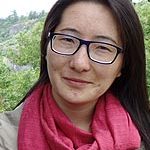 Sonam Choden is a young Bhutanese, born and raised in Bumthang. Her family belongs to the Ngoe lineage of Pema Lingpa. For her textual studies Sonam came all the way to Germany where she is currently completing her PhD in  Tibetology (textual studies) at Hamburg University. At the moment she is free during supper months only.
DAY 1: Arrival at Paro & Thimphu
Drive to Thimphu and light sightseeing
DAY 2: Thimphu
Hike to a monastery & Thimphu sightseeing, introduction to Buddhism
DAY 3: From Thimphu to Punakha
Dochu la and hike to Lungchutse lhakhang on the way
DAY 4: Punakha
Chimey lhakhang, Punakha Dzong, Nalanda Buddhist College
DAY 5: From Punakha to Phobjikha
Hike or drive, Phobjikha village life
DAY 6: Phobjikha
Valley hike, Gangtey Gonpa
DAY 7: From Phobjikha to Bumthang, Chumey
Trongsa Dzong and Tadzong on the way
DAY 8: Bumthang, Chumey
Tharpaling monastery, meet with monks, village life
DAY 9: From Chumey to Ura
Ura Man Gi lhakhang & village life
DAY 10: Ura
Visit village temples and families tracing back to Longchenpa and Pema Lingpa
DAY 11 – DAY 13: Retreat
2,5 days retreat at a remote Pema Lingpa meditation centre (simple), on the last day drive to Chokhor valley
DAY 14: Chokhor
Visit most important temples (Tamshing, Kurje, Jampe, etc.)
DAY 15: Flight to Paro
Sightseeing in Paro depending on time of arrival
DAY 16: Paro Taktsang
Hike to Taktsang, Tiger's Nest
DAY 17: Departure
---
For reasons of originality we refrain from detailing our programme here. For more information on tour please contact us