By Karma Choden, culture guide and trekking guide
With the COVID-19 pandemic in the world, people lost their jobs, the economy of countries are in decline, the mental health of every single person is affected and the price of commodities are rising. The spreading of the virus hasn't slowed down, and while people hope for the vaccines the death rate keeps on increasing.
Working together under a great leadership
In such hard times, in our small country everyone has come forward to fight against the virus even though we each have our own share of the struggle. We Bhutanese are immensely blessed with the great leadership of our king. Whilst we are under lockdown, staying inside to keep ourselves safe from this virus, our king selflessly goes outside leaving his family and seemingly unworried about his own life to ensure his countrymen are safe and sound by providing basic needs. He has also ensured that our border areas are well guarded. Furthermore, as tourism is one of the most affected sectors around the world, our king generously granted the people working in the tourism sector relief through the kidu program. It is a kind of basic income that offers financial help to those people who are badly affected by this pandemic, without expecting anything in return.
Kidu and important things in life
The year 2020 has not been easy for anyone around the world but in our country because of our great king nobody was ignored. I'm overwhelmed and grateful that I too have been a recipient of kidu, which has helped me in many different ways, e.g. to pay my monthly rent and to buy necessities such as food. This pandemic has also made me realize a lot about where I have been wrong, the value of my career, parents, mental health and many different things that happened in my life. Initially every month, while kidu was deposited in my account, I felt guilty and uneasy thinking I couldn't really contribute anything back.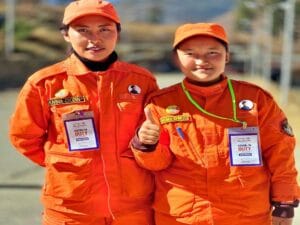 Keeping busy – "Guardians of peace"
Then there was an announcement by the Tourism Council of Bhutan (TCB) for temporary jobs and training. I applied for a temporary job of two months' duration, helping to update google street view of all 20 districts of Bhutan. However, I was not immediately recruited. Soon after that, there was an announcement of the 39th batch De-suung training (guardians of peace). I really didn't want to miss this opportunity and so straight away signed up for the training. However, unfortunately due to a large number of youth applying for the training, I was not selected for that either. So I went back to my parents' farm and helped them with their work.
After spending more than two months at my parents' farm I got a call from TCB asking "will you be available for a temporary job?" Immediately, I said, "yes". I was curious to know what this work would be. As expected, this work would be related to the google street view update of all 20 districts. As a tour guide, I have visited most of the places in the country, but with this job, I got an opportunity to visit some places which I haven't been to before.
My luck continued and soon after getting this temporary job, I got a call from the De-suung office telling me that I'm selected for the 41th batch De-suung training program. I was very glad to hear this news, and filled with hope and determination to learn new things, my mind was again full of gratitude to my king and country.
After undergoing De-suung training for twenty-one days I was awarded a certificate. During that time I took an oath, the De-suung Honour Code.
As a De-suung:
I will keep service to my nation before my own safety and comfort;
I will remain honest in thoughts and upright in actions;
I will protect the national heritage even at the cost of my own life;
I will never vacillate from integrity to my motherland and loyalty to my supreme commander;
I will always volunteer for service to TSA-WA-SUM at any point of time;
I will never let down my Supreme Commander and my fellow De-suup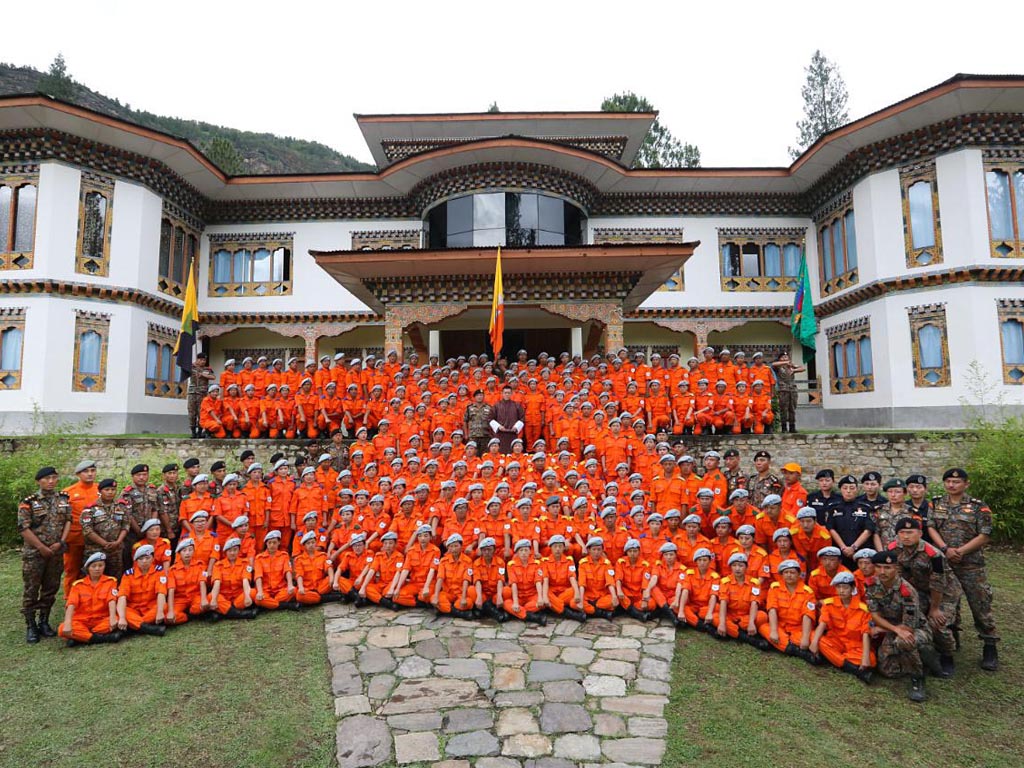 Tsa-Wa-Sum: the three precious jewels. Here: king, country and the people
Serving in the lockdowns and trekking guide training
Soon after my training, I served in the first lockdown which was for twenty-one days. Afterwards everyone was alert and more cautious. Now they never forget to wear facemasks, keeping enough distance and washing hands or sanitizing.
After that, there was an announcement from the TCB of a trekking course. I felt this was a good opportunity to upgrade my skills and knowledge. The trekking course was for two months. I applied for the training and was selected. During the training, I have learned a lot that connects me further with nature, mountains and places which have been hidden for so many years.
Soon after completing the course, the second nationwide lockdown happened, this time lasting forty-two days (20th December 2020 to 30th January 2021). I felt the call of a nation is more important than anything else in my life, so I once again came forward and, as a De-suung, got a chance to serve my country wholeheartedly.
Never stop learning…
Currently, I am undertaking a German Language course, which was initiated by Bhutan Homestay, the tour operator that I guide for.
So I would like to express my heartiest gratitude and appreciation to my king for every sacrifice and keeping us safe despite the pandemic, to the TCB and to Bhutan Homestay for giving me these opportunities.
Though the year 2020 has hit everyone hard, I remained positive and grabbed every opportunity that came my way. And I'm glad that 2020 has been a year of knowledge and wisdom especially for me.
I'm still looking at things with curiosity and a desire to learn.