Birds of Heaven

This birding tour is designed for casual birders who are also interested in cultural exposure. The trip covers four western Dzongkhags (districts) with an opportunity to spot more than 50 different species of birds in the temperate and alpine vegetation. The birding package includes a day hike to sacred sites and visits to historical and cultural monuments.
7 Nights/8 Days in Bhutan
DAY 1: Arrival at Paro 
Local sightseeing and evening bird-watching along Paro river (Ibisbill, River Lapwing, Black- tailed Crake, ducks and other shore birds)
DAY 2: Paro Chelela pass & to Thimphu
On the way you will see Himalayan Monal, Blood Pheasant and Kalij Pheasant, Redstarts, Accentors, Grosbeaks, Warblers, Rosefinch, Snow Pigeon, Buzzard and White-browed Fulvetta
DAY 3: From Thimphu to Punakha 
Dochula pass, chances of sighting the Fire-tailed Myzornis, Rufous-gorgeted Flycatcher, Tits, Warblers, Brown Parrotbill, Eurasian Jay and Yellow-billed Blue Magpie. Visit Punakha Dzong & birding in the evening with a chance of observing the White-bellied Heron
DAY 4: From Punakha to Phobjikha
On the way the main birds will be Yellow-rumped Honeygiude, Ward's Trogon, Laughingthrushes, and high altitudes birds like Eurasian wren, wall creeper, Himalayan Griffon and Rosefinches
DAY 5: Phobjikha
Explore Phobjikha and observe the Black Necked Cranes
DAY 6: From Phobjikha to Paro
In the morning to Pelela to observe high altitude birds, later back to Paro
DAY 7: Hike to Tiger's Nest
Hike to Taktsang
DAY 8: Departure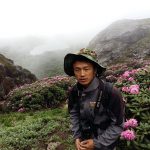 This tour will be accompanied by our specialist guide, bird watcher and photographer Chencho Wangdi. Chencho spends most of his free time with outdoor activities in particular hiking, bird watching and wildlife photography. He is passionate about wildlife conservation and knows the surroundings like no other.
Information:

A great tour for bird watchers who also want to see some cultural highlights on the way and prefer comfortable accommodation.
Bookings:
For reasons of originality we refrain from detailing our programme here. For more information on this group tour or if you want to book this tour individually please contact us