Thag-Zo: Textile Traditions in Bhutan
Weaving • Monasteries • Festivals
Duration: 15 nights/ 16 days in Bhutan
Date: tba
Duration (in Bhutan): 15 nights / 16 days
Group size: 6-10 Participants
Previous textile knowledge is not a prerequisite! Please check our partner's website for updates!

Bookings
This tour is implemented by Bhutan Homestay and can be booked with our partners:
Book with Bhutan Insight, Germany 
We can help you with the booking if German language on the website is an issue!
Guides (English- and German-speaking)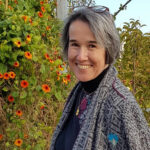 Specialist guide Barbara Pönighaus-Matuella
Barbara Poenighaus-Matuella was born in 1964 and grew up in Innsbruck, Austria. After handweaving training in Fischerhude, Germany, she gained a professional qualification in textile conservation at the Abegg-Foundation in Riggisberg, Switzerland. Following additional internships and workshop positions in France, Germany, the US, Canada and Hungary Barbara was appointed as a Textile Conservator in 1992, at Vienna's Weltmuseum Wien (Austria's national anthropology museum). There, in 1997/1998 she was part of the team that created the international exhibition and catalogue, Bhutan – Mountain Fortress of the Gods. As part of that project, she spent one month in Bhutan, working with colleagues at the National Museum in Paro. Barbara loves teaching and sharing her enthusiasm – not only for textile crafts, traditions and styles, but also for nature, for cultural issues and for the richness of human encounters:
"In Bhutan I found all of this – embedded in a serene sort of spiritual sincerity that changed my own perceptions."
Local cultural guide Karma Choden
Book recommendation
Karin Altmann's Fabric of Life – Textile Art in Bhutan provides in-depth information on the role of textiles in Bhutanese life.
The World of Textiles
This special interest tour, an appealing combination of textiles and cultural sightseeing, is a treat for everyone who is interested in textile traditions. It is ideal for all those who are enthusiastic about colors and patterns, who appreciate the attention to detail and want to experience the lively diversity with all their senses.
On this trip you will explore the art of weaving in west and central Bhutan, delving into the world of fabrics, threads and colors in various contexts of Bhutanese society: everyday village life, festivals and religious ceremonies.  The various textile traditions will run like a "red thread" through your journey. Furthermore this tour includes cultural highlights such as a visit to the famous Taktsang monastery and gorgeous hikes to remote temples in pristine landscape, adorned with colorful prayer flags.
Weaving Culture in Bhutan
In the Bhutanese textile tradition, women usually wove at home and mothers passed on their skills and special patterns to their daughters, because this "secret knowledge" constituted originality, which meant material value creation as well as social prestige and the blessing of higher powers.
Hence weavers usually work at home and not in groups or centers. The latter have been encouraged by the government and NGOs in recent years to promote weaving as a profession for young people. Nevertheless, at present many consider it a dying art in Bhutan. Many weaving centers that were viable initially are now abandoned as young women try their luck finding work in towns. Nevertheless, although you will not encounter many weavers gathered in one place, you will visit them in their homes. Special activities such as weaving demonstrations will also be arranged.
Travel plan
Begin your adventure with a visit to some of the cultural highlights and textile-related institutions in the capital, Thimphu. Continue your journey to Punakha and participate in a dyeing-workshop (with natural ingredients) held by Karma, a local textile expert. In Trongsa take a detour to Langthel to visit the nettle weaving places, its tradition revived by the NGO Tarayana. Arriving finally in Bumthang, you will learn about the changing practice of sheep wool production, the vital raw material for the renowned Bumthang yathra. Here a one-and-a-half day weaving workshop with local textile expert Rinzin Wangmo awaits you. A detour to Tang valley offers insights into previous traditions of local sheep rearing, and the chance to see traditional garments in a collection from a local noble family at Ogyen Choling palace. Finally, conclude your journey with a hike to Taktsang, the famous pilgrimage site in Paro.
Dyeing workshop
Participate in a dyeing workshop at Gatshotang, Punakha with Aum Karma. You will gain insights into a variety of plants, roots and other materials that have been used to dye the beautiful Bhutanese textiles. The ingredients are prepared on open fire as is the tradition in Bhutan. Aum Karma is a mine of information as well as a famous weaver – she also designed the wedding go of the 5th king.
Weaving workshop
Your tour package includes a day-and-a-half long weaving workshop in Bumthang under the guidance of textile specialist Rinzin Wangmo. Each participant will work one-on-one with a weaver from the surrounding villages. Learn about material, patterns and weaving techniques. You will also discover how to wear the traditional dresses go (male) and kira (female).
Religious Festival, tshechu (tentative)
Enjoy a visit to a tshechu where the locals wear their best garments decorated with beautiful jewelry. Witness the sacred dances, 'cham, and marvel over the colorful costumes and masks of the monks performing. Additionally you will have the unique opportunity to witness a thongdroel (unfolding of a huge wall thangkha)
DAY 1: Arrival at Paro
Activities depend on time of arrival, light sightseeing and introduction by Barbara at dinner.
DAY 2: Paro  to Thimphu
Hike/drive to Rinpung Dzong for some first impressions of the marvellous ancient architecture in Bhutan. Hike/drive further up to the National Museum, which houses a large Thangka collection. In Thimphu visit shops and a new generation of textile designers.
DAY 3: Thimphu
Visit the Royal Textile Academy. You may also get a chance to visit the Textile Conservation Centre. Barbara will guide you through the showrooms and explain about the textiles on display. Later Jungshi paper manufacture and Traditional Boot House. 
DAY 4: Thimphu to Punakha, tshechu
Today drive to Punakha via Dochula pass with its 108 chorten and continue to Punakha Dzong where you will attend a religious festival, tshechu, with mask dances ('cham).
DAY 5: Punakha thongdroel 
Early drive to Punakha Dzong to see the unfolding of a huge roll thankgha. Later dyeing workshop at your lovely homestay.
DAY 6: Punakha to Trongsa
Drive to Trongsa via Pele la and Chendibji Chorten.
DAY 7: Trongsa
Visit Nettle weavers in Langthel with some sightseeing on the way back.
DAY 8: Trongsa to Chumey
Visit Trongsa Dzong and Tadzong before continuing your journey to Bumthang, Chumey valley.
DAY 9: Chumey
Drive to Tharpaling monastery to see another huge thongdroel being unfolded. Later spend time in a weaver's house. You will see a yathra loom and weaving, raw wool, wool spindle and spinning and different types of dye.
DAY 10: Chumey to Jakar
Visit the Yathra weavers in Zungney village. Drive to Tamshing lhakhang and walk to a nice homestay. Visit a weaving centre with Assamese looms. Conclude with a short valley walk to Kurjey- and Jambey lhakhang.
DAY 11: Jakar (weaving workshop)
Full day weaving workshop at Leki lodge with weaver Rinzin Wangmo.
DAY 12: Jakar to Tang
Half day weaving workshop. Later drive to Tang valley, visiting a sheep farm on the way.
DAY 13: Tang to Jakar
Enjoy a visit to Orgyen Choling palace & museum (old garments). Later felting with a local farmer where you will also take lunch.
DAY 14: Flight to Paro
Return to Paro by flight and activities depend on actual time of arrival, several options. Music evening with Jigme Drukpa today or tomorrow.
DAY 15: Taktsang
Hike to Tigernest monastery, later stroll through town for last minute shopping.
DAY 16: Departure
---