By Karma Choden, culture guide and trekking guide
The Jhomolhari trek is considered to be the mother of all treks in Bhutan and similarly, I consider Khumbu village hike the mother of all hikes in Phobjikha, a high valley in Wangdue Phodrang district, famous for the black necked cranes from the North who stay here over the winter.
Khumbu village merges into three different hikes with different destinations: 1) Khumbu to Lowala 2) Khumbu to Pelela and 3) Khumbu to Longtoed. While these routes were used regularly in ancient times ("traditional highways"), both locals and tourists hardly come across them nowadays due to modern roads. Khumbu village can be reached either by driving or hiking. The hike starts just above the Shedra (College for Buddhist Studies), and takes approximately forty-five minutes to an hour. However, by car, it will take fifteen to twenty minutes as the road condition is poor.
Khumbu village
Khumbu village is located approximately 3060m above sea level, under Gangtey gewog (administrative unit: a cluster of villages). It has around 20 households, and a population of fifty or so people overall living in the village. The village is believed to be one of the oldest settlements in Phobjikha. According to local elders in Khumbu, the name of the village was derived from the name of the temple "Ku-Bum Lhakhang", which translates to "containment of one hundred thousand paintings of the statue of Buddha on the walls of the temple".
The villagers depend on agriculture and livestock as their primary source of income. They raise yaks and cows, a combination hardly seen elsewhere in the country.
The village temple is called "Ku-Bum Lhakhang", where people make offerings and receive blessings. The temple was founded by Zhabdrung Tshenden Dulwa, a Bon master from Tibet in the 13th century. The temple has statues depicting the past, present and future Buddha (Due-Sum-Sangay), and a shrine is dedicated to the local deity. It is one of the oldest temples in the village.
Exploring on foot
Hikes and treks are always considered a good way to exercise with interesting and beautiful impressions one can have on the way, but they are also the best way to explore our hidden culture and natural environment.
We can hike from Khumbu to Lowala (pass), but coming from Punakha it's also possible to hike from Lowala to Khumbu. The hike usually takes about two and a half hours to complete, but this can vary depending on one's stamina, strength and the condition of the route.
Many birds, mammals and plants
After breakfast, we first drive to Khumbu village and visit the temple. After spending some time there, we start our hike. Before beginning, I remind my guest(s) to walk slowly to acclimatize to the altitude and not to touch the plants and trees if they're not familiar with them, as some plants are poisonous and/or can cause allergic reactions. I also instruct my guest(s) to maintain enough distance between one another just so they don't catch the spikes of each other's walking sticks, which can be irritating for the person walking in front of them. I also reminded them to be very careful around yaks, as they can sometimes be very aggressive. After explaining the do's and don'ts we start our journey, ascending uphill for an hour (the angle approximately. 50 degrees). On the way, we encounter different species of birds, mammals and plants. In the right season (especially in summer), we will also be able to enjoy different species of flowering Rhododendron.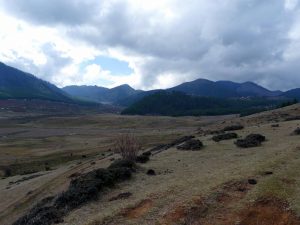 Amazing panoramic views
Upon reaching the hilltop we are blessed on one side with a panoramic and fascinating view of Phobjikha valley (home of the Black-necked crane), and on the other we see Lowala pass (3100m) along with some majestic mountain ranges of Bhutan.
After resting on the hill for a while, we proceed with our downhill hike, usually one hour, although we might take longer as the path is not often cleared due to hardly anyone using it nowadays. The downhill hike is tough and occasionally difficult, as we have to pass through thick Rhododendron forest. However, once we reach Lowala we can rest, before walking around the village stalls where locals sell their products. Our car then picks us up and we continue our journey either to Paro (six hours) or to Trongsa (four hours).