In December 2014 my husband, our 19 year old daughter and I spent the most amazing 2 weeks in Bhutan. We decided that joining a larger tour with a set itinerary wouldn't allow us to explore parts of Bhutan that might be less accessible, do activities around our interests or hobbies, stay in a variety of accommodation options and most of all take the days as they come, linger a bit longer in a place without feeling you have to hop in the van again to make it to the next scheduled activity or place. So we came across Bhutan Homestays and with Sonam's and Ulli's incredible help and patience developed an itinerary entirely based on our likes and interests.
Our holiday started with a dinner at Sonam's house (the proprietress of Bhutan Homestay), where we, as well as our guide Pema and driver Yoenten, indulged in
way too much food and met her family including her baby grandson and the cute family dog.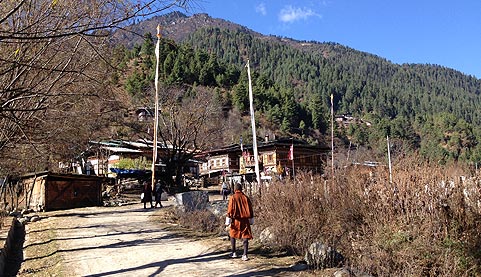 We spent 1/3 of the 2 weeks in wonderful 5 Star accommodation (an absolute stand out is the Zhiwa Ling in Paro), some nights in the hotels that form part of other tours as well (and were very happy with all of them) and the rest at homestays.
These homestays added an entirely different dimension to our holiday. What an experience to stay in a beautiful rustic and authentic home and be greeted with big smiles by families who made every attempt to ensure that we had a wonderful, scrumptious and comfortable experience. All at once we were not only looking at the beautiful Dzongs and monasteries, but experiencing village and family life, hearing insider, mystical and traditional stories (with our guide translating), meeting other villagers, temple dancers or officials.Instead of visiting some big festival in one of the larger towns, we went to a small temple tshechu in the hills with a smaller but in Bhutanese tradition very important festival.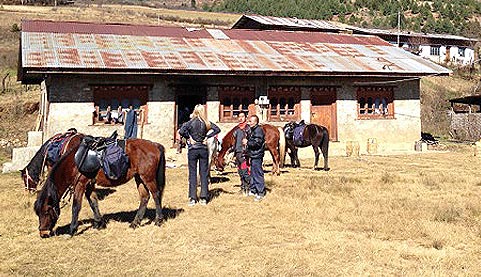 Being avid horse riders, Pema and Yoenten organized a ride in a National Park close to the Tibetan Border with an impromptu lunch at a remote local farm house "on top of the world". Instead of having organized lunches we often bought food at the markets (e.g. fruits you can peel) and in some little shops and had beautiful picnics along wild mountain streams. Or Pema and Yoenten organized some cooked food from the homestay, which we would take with us in steamers plus plates, drinks, cups etc. to lay out and eat somewhere in nature. Pema and Yoenten deserve a special mention. They were both incredibly helpful and funny, relaxed and always willing to be spontaneous, none of our ideas was too much for them. Pema, our guide, had a breadth of knowledge about pretty much every place and situation, told us many stories and his charm and smile made him welcome wherever we went. When Pema is not working as a tour guide, he works in his dad's architectural office.
Being an architect myself, I'm always interested in local architecture and was very excited that he could tell me so much about Bhutanese architecture. Yoenten, our driver, is a lay monk (and also full of ideas of what we might enjoy doing or seeing). All our visits to temples or monasteries had so much more depth due to us being able to share or understand the special meaning certain temples, statues or ceremonies have for him. We talked to monks, lit butter lamps, and received blessings, had prayers recited for our wellbeing, meditated in the Tiger's Nest and generally developed a greater understanding and appreciation of Buddhism.
And so much in Bhutan is about giving gifts. Not just gifts from us for the families or guide and driver, but we in turn received parting gifts from the families, our guide and Sonam. This holiday was so much more than just about the beauty of Bhutan's nature and sights, it allowed us to experience a little bit of a life quite different to ours and a slight understanding of what life looks like if you measure it in Gross National Happiness.
Warm regards, the Ellis family