Reflections/feedback on my Bhutan Homestay experience
Travel for me is all about the people. When I visit a country I want to come away with memories of not just the scenery and tourist sites but of the interactions I had with the people who live there, I want to have learnt something about how they live and to learn from them about their culture. I want my experience to be a cultural exchange, a two-sided interaction that leaves us both a little richer. I want to be able to take photographs that not only record the beauty of a country and its cultural heritage, but also reflect the ordinary people who live there, who are the essence of the country and who define its character.
This is why I tend to choose homestays when I travel. It won't be every tourist's choice, some will have different perspectives and priorities but this is my preference and finding 'Bhutan Homestay' during my research of the options for visiting Bhutan was a breakthrough. What they offer stood out among the very many tourist companies who seem to be offering very similar packages/experiences, and their philosophy aligned with my own.
The way that Bhutan organises its tourism is unique, and whilst I can see some of the benefits to the country, for me as an independent traveller, who is happy to come and spend money visiting the country but who is looking for the sort of experience described above, I find the system too regimented and restricted. I like to have some freedom of movement when I travel, to be able to wander and let the story unfold as it goes along. Having to go through a travel agent and take a guide and pre-negotiate an itinerary which then becomes to some extent binding, having to pre-determine the exact duration of the visit for the visa is off putting to someone who is used to independence.
Given that I had to work within this framework to organise my trip, I was very fortunate that Bhutan Homestay had filled a gap in the market and had positioned themselves to be able to offer exactly what I was looking for.
Most of the itineraries offered to tourists were very similar, covering the major tourist attractions and experiences. I wanted to experience the Bhutan which had as yet been untouched by mass tourism, to get away from other tourists and immerse myself in the Bhutanese culture of ordinary people. I also wanted my visits to locals and their communities to benefit them directly rather than my money going to big hotels.
By taking the trouble to get to know me and what I was looking for, by listening to me and working with my individual requirements and preferences, Bhutan Homestay were able to arrange an itinerary off the beaten track, in Eastern Bhutan, visiting remote settlements where people were still living traditional lives, and for me to have the very great privilege of staying in their homes and meeting their families and communities.
Excpectations…
Bhutan has chosen to structure its tourism along the lines of low volume high cost. That's fine, but if I am to pay the daily tariff then in return I want to be able to tailor my travel experience to my preferences and interests and not just be offered a 'one size fits all ' version of what the Bhutanese tourism industry think that all Western visitors want. Yes, I can afford the daily tariff, but no, I don't want it to buy me luxury hotels or a 'Western adapted' experience at homestays. I can have luxury anywhere. When I come to visit Bhutan I want to experience what is unique about Bhutan, the real, authentic Bhutan, to be able to live amongst locals as they live.
I want all my home stays to be different, as each household is unique, each valley is unique. I don't want a standardised formulaic experience, I want to visit people as they really are, to eat the food they normally eat, to eat in the kitchen with them, to take them as they come.
So what are the 'adaptations' that I do appreciate on home stays? Very minimal. I don't eat meat so appreciate it when this can be accommodated, but otherwise I want to eat as the locals do. Hygiene is important to me as I don't want to risk getting sick on my travels, but by this I mean basic food hygiene, and a clean toilet where I can wash my hands with soap, and that's about it.
I'm happy to sit and eat round the wood stove in a fire-blackened kitchen, I prefer it, I don't want a separate sterile eating area for visitors under fluorescent lighting. I want to be able to witness everyday life as it normally goes on, for see farmers going about their daily activities rather than any specially contrived 'cultural shows'. What I appreciate is having an authentic experience, which for my dollar is worth way more than any experience in a luxury hotel offering standardized Westernised food and contrived tourist 'experiences'.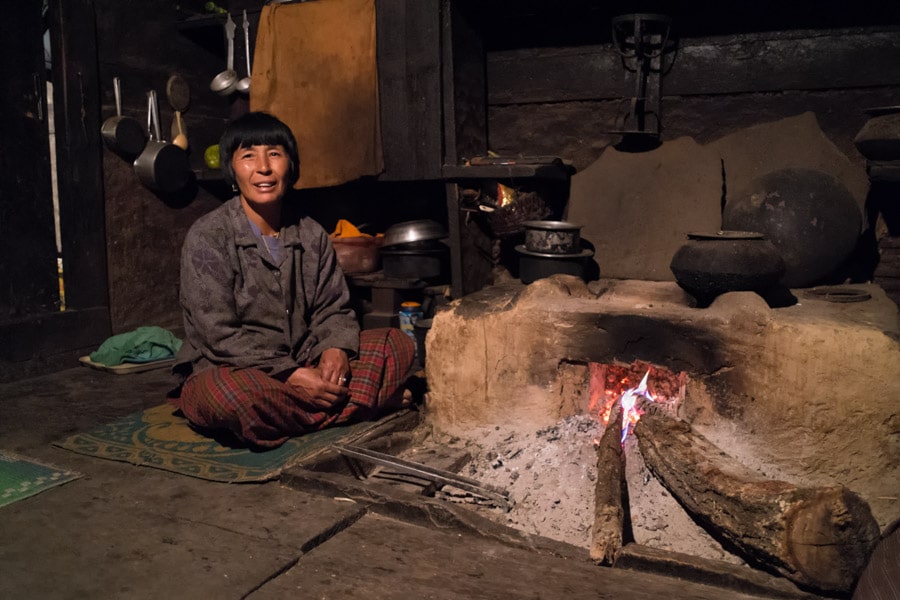 I want to travel slowly, not dash from one tourist attraction to another, I want to talk to people and learn about Bhutan from Bhutanese, about their history, their politics, their culture, about their spirituality and understand from them what it is like living in a country where Buddhism underpins every aspect of their lives.
Contributing to the Communities…
I like the fact that some of my tourist 'fee' is going directly to the locals offering home stays and that my visit rather than damaging the authenticity can contribute even in a small way to sustaining the viability of rural communities. The draw of urban life in part fuelled by the revenue brought in by tourism threatens to erode the very character of Bhutan and its people that attracts those tourists in the first place. Retaining Bhutan's unique identity, cultural heritage and traditions in the face of advancing modernity and integration with the wider world is a very real challenge. How tourism is handled will be a key part of meeting this challenge, and responding to responding by adapting Bhutanese culture to Western ways in an attempt to offer tourist what it is imagined they want is often counterproductive. I greatly appreciated that Bhutan home stay took the trouble to actually ask me what I wanted rather than second guessing it and getting it wrong.
I also greatly appreciated the careful choice of guide and driver who showed me round their country. My guide could speak the local language and had the right personality to be able to facilitate local encounters with ease. Visiting the Brokpa people, I had a local villager to show me round who knew everybody and spoke the minority language. This was key not only to my experience but also to my photography which was the catalyst for my visit to Bhutan.
Tourists are not homogenous, and many wouldn't choose what I would, but I want to have that option. I also know of many others, especially photographers, who would be interested in travelling the way I do but who don't know how to go about finding that sort of experience. As a style of tourism with potential benefit to traditional rural communities, I feel it is a largely untapped market, but one which would need to be sensitively developed in order to succeed, listening carefully to what the 'low volume high cost' tourists are looking for in this area, along the lines that Bhutan homestay has already trailblazed.
By choosing home stays I experienced many aspects of Bhutanese life and had rich encounters which most tourists driving past in their coaches will have missed. You can't 'timetable' these in, you can only create the circumstances to allow them to happen of their own accord.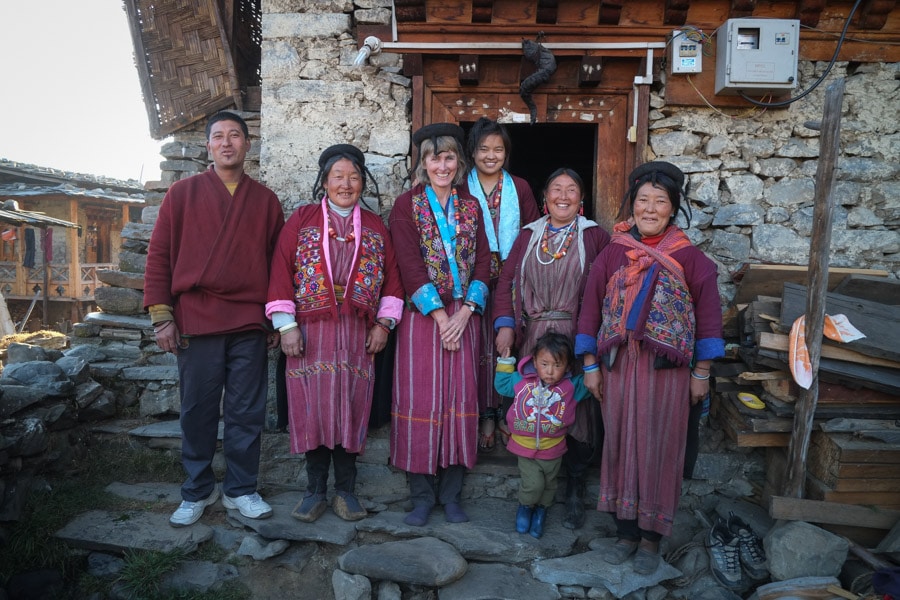 Here are some of my favourite moments to illustrate my points:
Falling asleep by the bukahri wood stove, covered in wool blankets made by the family, and waking up to the chatter of Brokpa women in their traditional dress, making momos and chilli paste with my driver and guide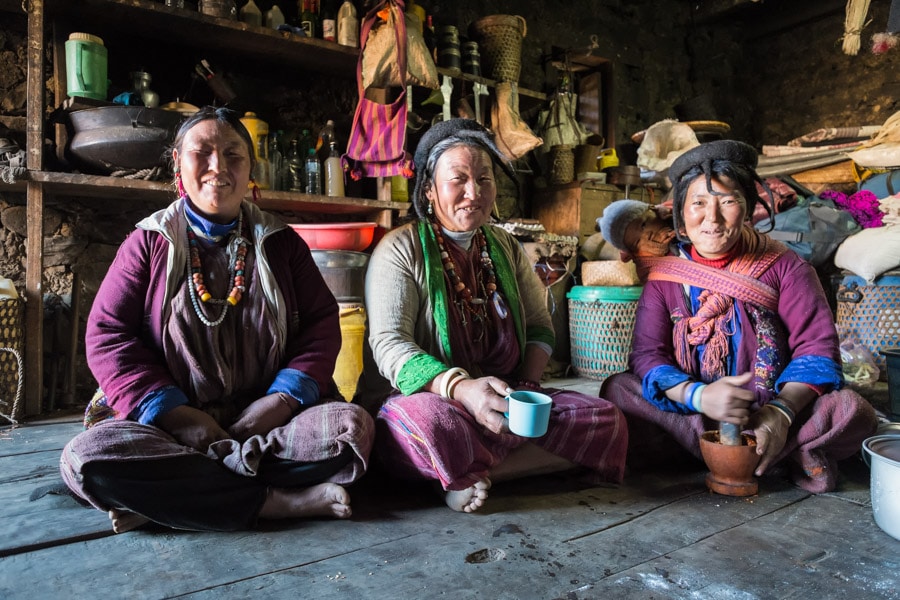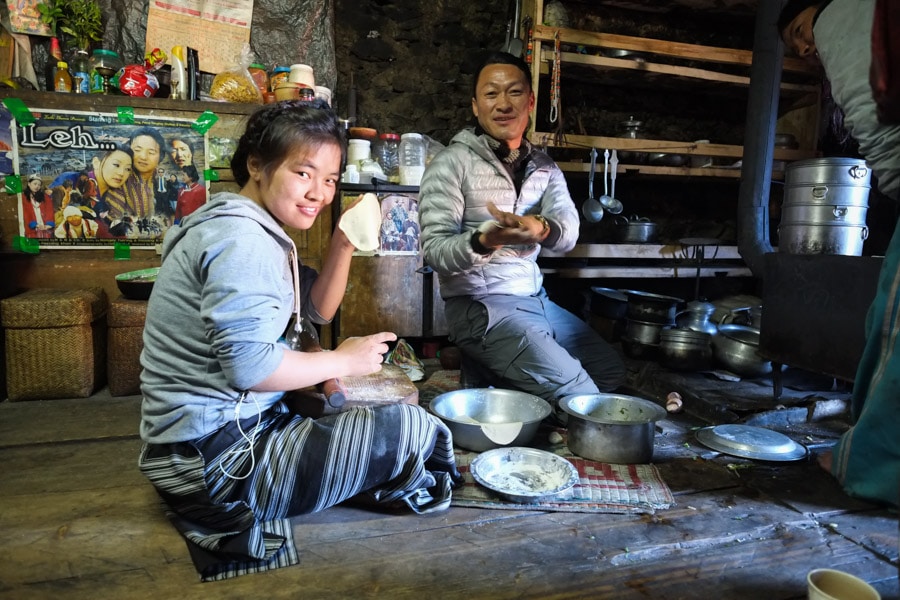 Arriving at a tea stop as darkness was falling, and finding out that we would be unable to reach our planned destination because of a blocked road, and experiencing the spontaneous hospitality and welcome of the Bhutanese as we were offered a place to sleep at the back of the shop.
The many occasions we were treated to a spontaneous evening of traditional song, dance and laughter in somebody's home.
The evening in Wongchillu when the two young boys of the household sang songs for us round the stove after supper, dressed in their ghos.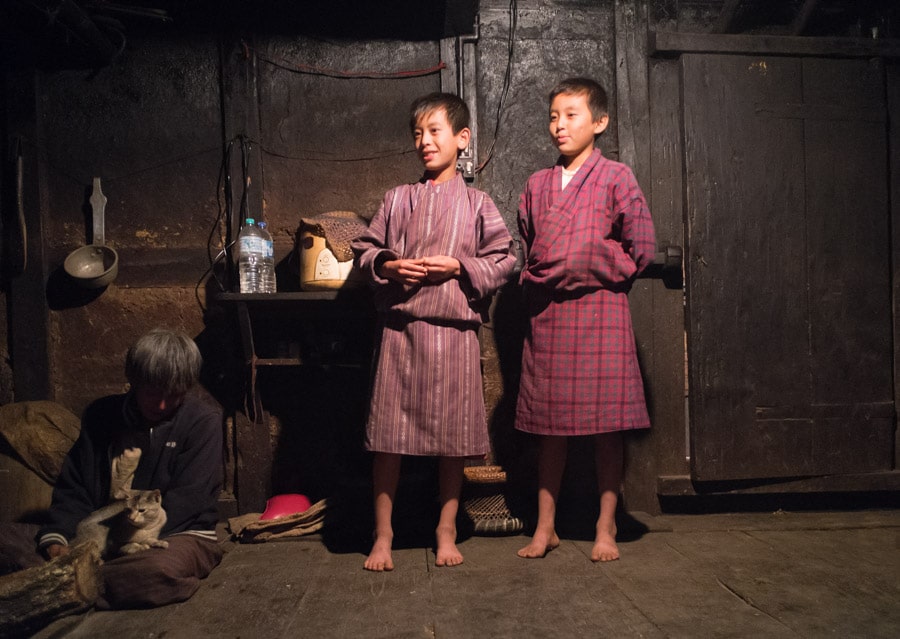 The many early morning walks seeing village life waking up, watching the cows being milked, or the yaks being herded.
Being invited into strangers' homes and offered tea round the fire, or being invited to hold their newborn babies, or hearing their life stories.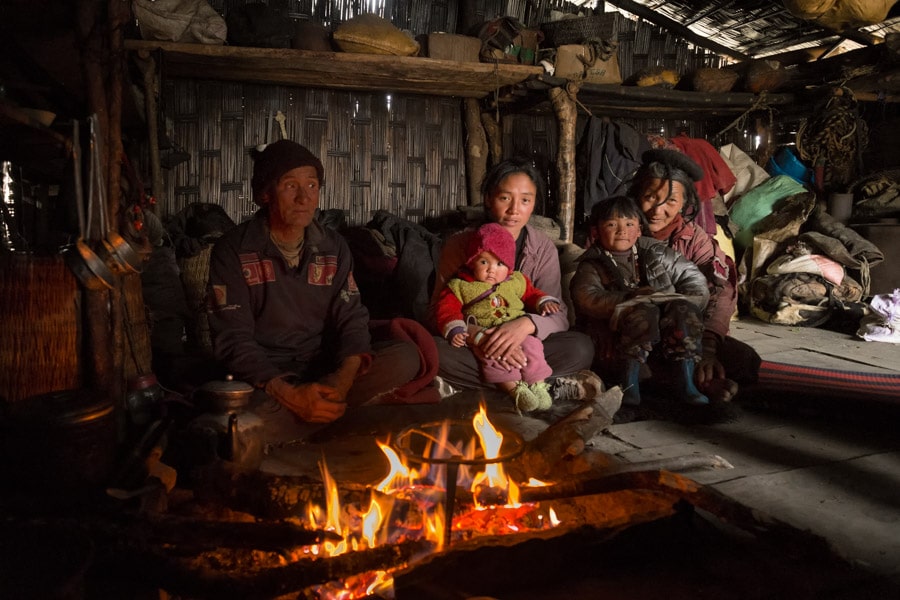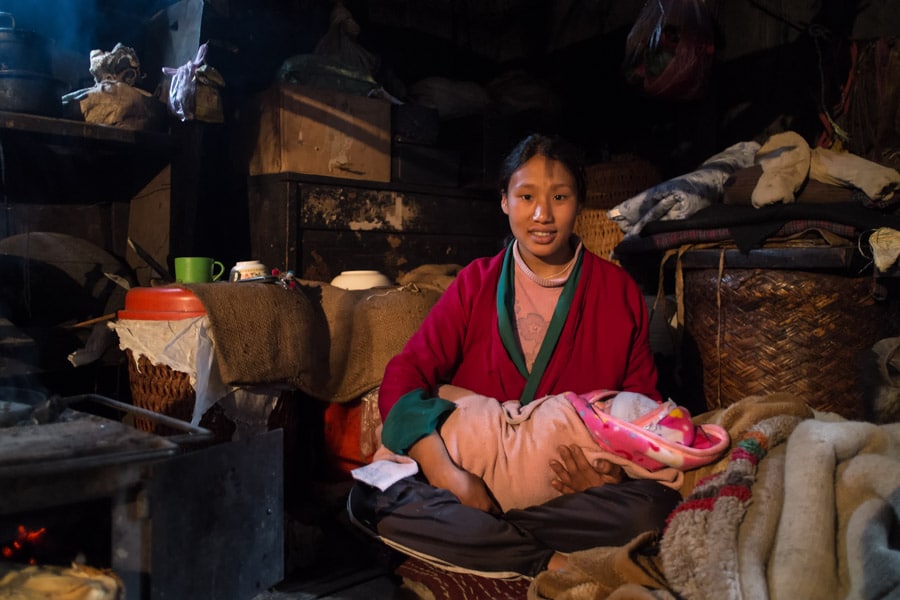 Seeing and hearing how much my visit had meant to people and being able to give a little back, even if it was just some instant photos
Meeting and photographing a Brokpa lady in her traditional dress, being invited into her home in the mountains and learning that she was a diabetic with high BP who was running out of her essential medication and had no means of being able to access any supplies, and being able to source some on our return to the towns and through the network of people knowing each other, being able to get them back to her. The delight a few days later to hear that they had reached her and she had enough to last her until her family could send some from Thimphu
Staying in villages long enough to get to know people and learn a bit about their lives and be able to tell them a bit about my life in the UK too.
Being the first Westerner to have ever visited a village which retained its own language, and experiencing an incredible welcome. Meeting all the villagers and answering their many questions about life where I came from.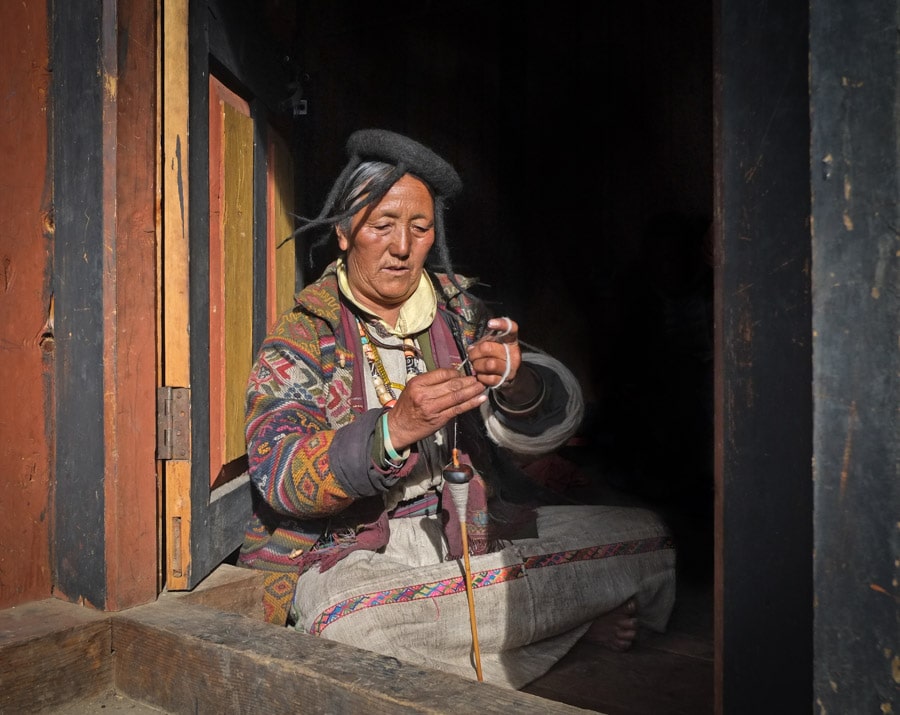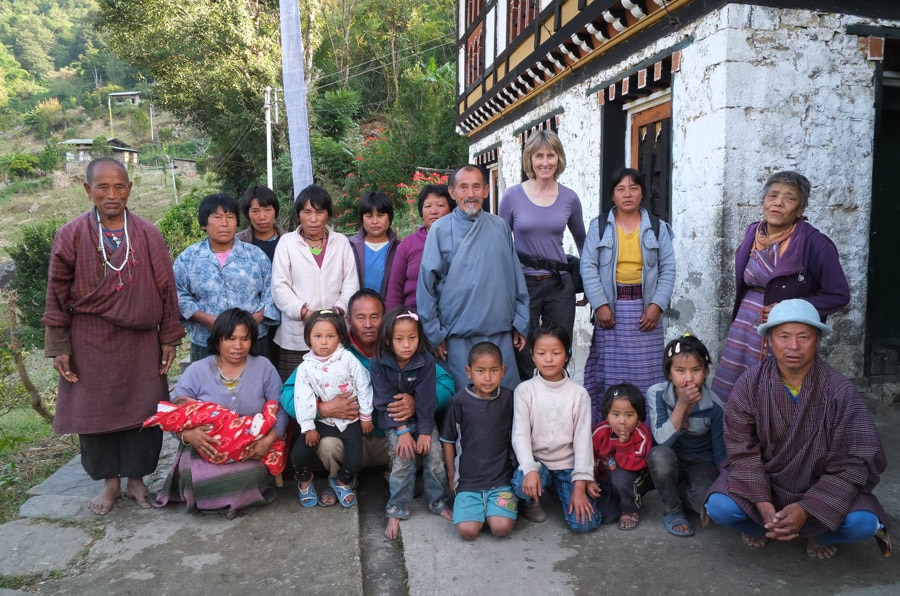 Looking back as we left the Brokpa community to see a line of Brokpa women holding hands, dancing and singing to bid us farewell.
In contrast, below is a photo of my least favourite 'home stay', a purpose built extension to take tourists in a Brokpa village with fresh pine cladding, devoid of any character and atmosphere, missing the point that one chooses a home stay to stay in somebody's home, amongst the people of the household seeing how they live and hearing their stories, not annexed away in a bunkhouse.
Yes, it had a Western toilet purpose built, but I would happily have traded this for a chance to stay with the family in their own home. It is worth researching what the paying tourists actually want rather than guessing and putting money and effort into well intentioned developments that miss the point and trample on the very culture that we come to experience.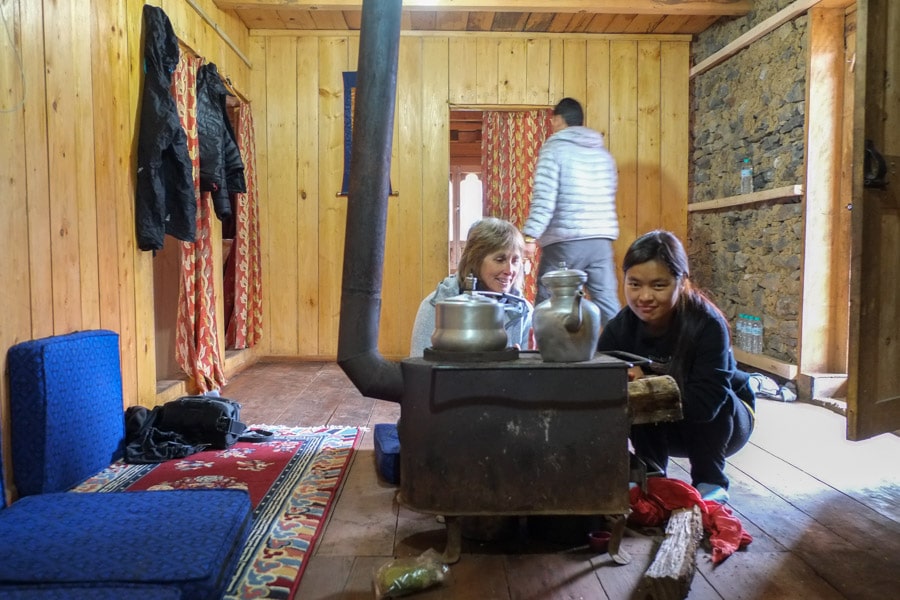 Clare Rowntree, UK visitor to Bhutan with Bhutan Homestay, November/December 2014